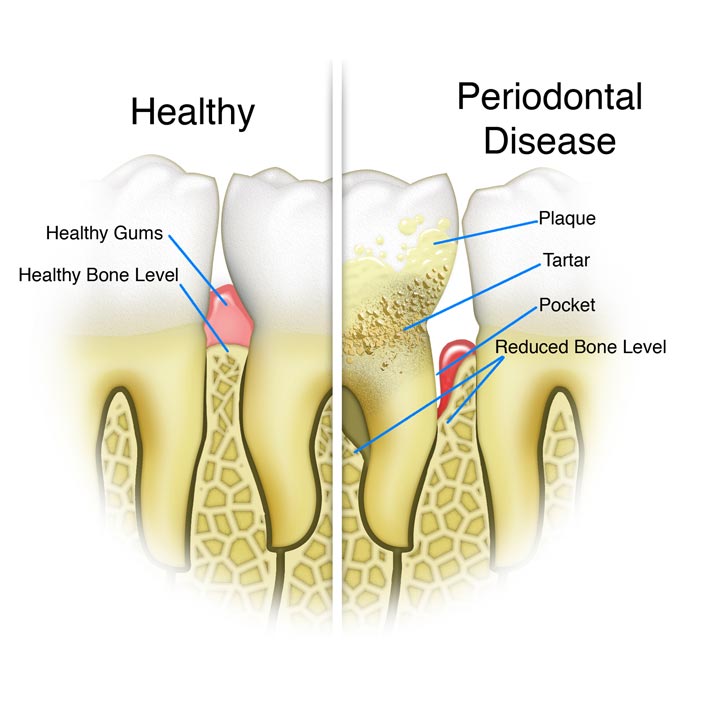 Gum Treatments
Gum disease, also known as periodontal disease, is an infection of the gums surrounding your teeth. Gum disease is one of the top reasons for tooth loss in adults. Because it is virtually pain-free, many patients do not know they have the disease.
Gum disease is caused by a buildup of plaque that creates toxins that can damage the gums. Periodontal disease forms just below the gum line and creates small pockets that separate the gums from the teeth. Periodontal disease has two stages: gingivitis and periodontitis.
Gingivitis — This is the early stage of gum disease, when the gums become red and swollen, and bleed easily. At this stage, the disease is treatable and can usually be eliminated with daily brushing and flossing.
Periodontitis — If left untreated, gingivitis will advance into periodontitis, and the gums and bone that support the teeth will become seriously and irreversibly damaged. Gums infected with periodontitis can cause teeth to become loose, fall out or need to be removed.
Regular dental checkups and periodontal examinations can significantly reduce your chances of ever getting gum disease. Remember to brush regularly, clean between your teeth, eat a balanced diet and schedule regular dental visits to help keep your smile healthy.
If you have any questions about gum disease treatment, please contact our office today for an appointment.